What Are the Benefits of Electric Vehicle Subscriptions?
October 6, 2022
What Are the Benefits of Electric Vehicle Subscriptions?
Subscription models continue shaping our economy, giving customers access to customizable products and experiences without the need for ownership. This even goes for big-ticket items like cars. Shortening the traditional lease to a month-to-month agreement, car subscriptions are getting drivers behind the wheel without long-term debt or stressful dealership interactions.  
Alongside the dawn of car subscriptions, another automotive trend is the rising popularity of electric vehicles (EVs). Around the globe, citizens are turning to EVs to cut tailpipe emissions and ease the impact of rising gas prices on their wallets. 
But the cost to purchase a new EV remains high, keeping the market sector shrouded in financial exclusivity. EV subscription services are democratizing the industry by giving drivers access to the many benefits of EVs in exchange for affordable, transparent monthly payments, all without the burden of long-term commitment. 
Whiz Past Headaches and Fees with a Car Subscription 
The first step in a traditional car-buying or leasing process is going to a dealership — not many people's favorite destination. Facing pushy salespeople and pitches for pricey add-ons while trying to secure your desired price on a car can make for a less than a delightful shopping experience.
Even if you do think you got the price you wanted on a car, just wait until you see the total cost once all the fees are added on. From title and registration, if you're buying the car to acquisition fee and disposition fee if you're leasing, the bottom line will be more than you think.
By eliminating the need for stressful car dealerships and their consequent fees, car subscriptions do away with many of the logistical and financial barriers to entry for driving. Some subscriptions operate completely digitally, allowing members to place a reservation online and access a vehicle with a fixed, transparent monthly price, sidestepping dealership anxieties. 
Because a subscription service isn't selling or leasing you a car, you're not taking on debt, so it won't impact your credit score. This lets people drive with ease while staying on track for any other financial undertakings on the horizon, like purchasing a house or refinancing a loan. You'll also avoid the interest payments of long-term debt with a subscription, which won't ask you to sign years of your life on the line just to drive a car today.   
Auto loans are the third largest contributor to consumer debt in our nation, behind student and housing loans. With total personal debt in the US at an all-time high, why should mobility keep digging us deeper into that hole?  Subscriptions provide a solution, giving drivers access to a car without the long-term debt.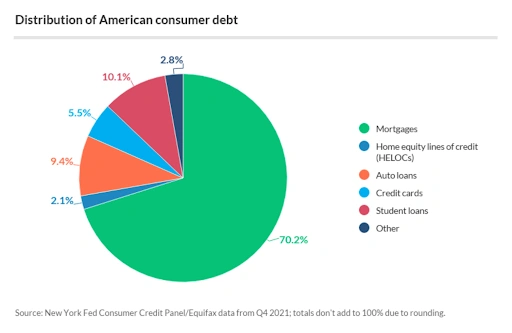 US consumer debt at the end of 2021. 
Auto loans follow closely behind student loans. 
Source: https://www.lendingtree.com/auto/debt-statistics/ 
In addition to offering an alternative to automotive debt, subscriptions give drivers the freedom to return their car much sooner than the standard years-long contract, sometimes after just a few months. Compared to the financial penalties you'd incur for returning a lease early or the hassle of selling a car yourself, subscriptions free you up to make decisions as you go.  
A car subscription can also save you money upfront. Their affordable activation fees are democratizing access to cars for eager drivers. For example, Autonomy is a California-based car subscription that lets you drive off for as little as $1,500 plus tax. 
By giving modern drivers the simplicity, transparency, and financial flexibility they need to take on today's world, car subscriptions are empowering customers on their journey from A to B. Freeing drivers from manipulative sales interactions, punitive fees, burdensome possessions, and even long-term debt, vehicle subscriptions represent the next generation of mobility. 
Save Green and Drive Greener by Subscribing to an Electric Car 
Savings with a car subscription don't stop at affordable activation fees and transparent monthly payments. For subscription services offering drivers access to EVs, savings follow with each mile you drive on electricity rather than gasoline.  
As gas prices rise with inflation and fluctuate unpredictably alongside international conflict, financially savvy drivers are insulating themselves from climbing costs altogether by driving electric. Skipping the pump can save you thousands, although the exact amount will depend on the cost of electricity where you live.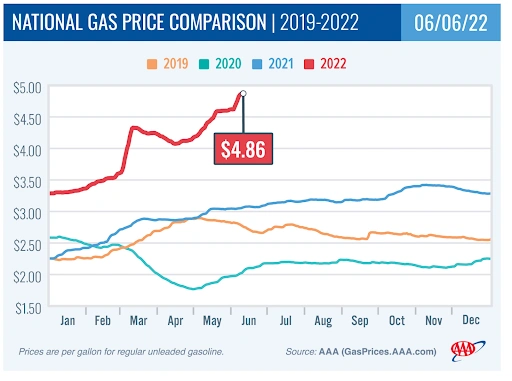 2022 has shown us record-high gas prices so far. 
Source: https://gasprices.aaa.com/rising-oil-cost-and-high-demand-for-gas-keep-pump-prices-surging/  
But for many, the decision to drive an EV is not purely financial. With worrying signs of global warming driving society's collective anxiety, individuals are examining their daily lives for opportunities to mitigate their own contributions to climate change.   
In the US, where transportation is the largest source of greenhouse gas emissions, one of the first things people can do to go green is adjust their mobility practices. Today's technology gives EVs more miles of range on a full charge than ever before, and the vehicles are becoming a viable option for a growing number of drivers.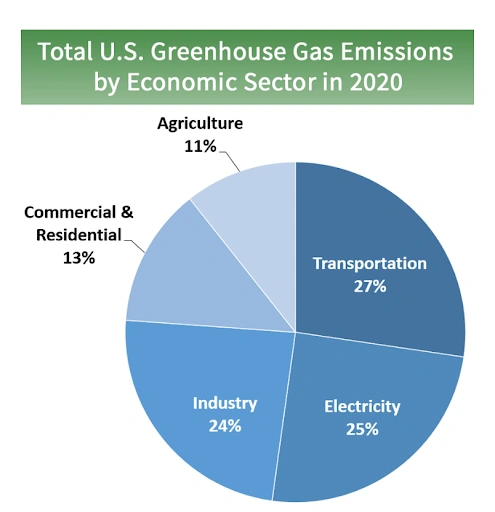 Transportation, which includes passenger vehicles, is the largest source of greenhouse gas emissions in the US. 
Source: https://www.epa.gov/ghgemissions/sources-greenhouse-gas-emissions#:~:text=The%20largest%20sources%20of%20transportation,emissions%20from%20the%20transportation%20sector. 
But with the average cost to buy a new EV in 2022 ringing in at $54,000 (a full $10,000 higher than the average price of a new gas guzzler), sticker shock keeps many would-be EV drivers from purchasing or leasing. In light of these prohibitive prices, EV subscriptions are poised to fill a crucial gap.  
EV subscriptions make the statement that cutting down on tailpipe emissions is not an activity just for the wealthy. By increasing accessibility, the services allow more people to forego petroleum products in favor of plug-in charging, boosting the total number of drivers working toward a cleaner environment. This also helps pave the way for a future transition to renewable resources.  
Last year, President Biden signed an executive order setting a goal for 50% of all new US car sales to be electric by 2030. It's not hard to guess where the industry is headed, and an EV subscription puts you ahead. Plus, as many drivers will be trying out EVs for the first time in the coming years, subscriptions provide the perfect way to test one out without the fear of buyer's remorse. 
The inherent savings of driving an EV only grow when coupled with a subscription's transparent pricing, affordable activation fee, and flexibility. EV subscriptions are opening the playing field to environmentally conscious drivers eager to participate in cleaner energy practices. As climate bills continue to stall in Congress, you can take action today by subscribing to an electric car.  
Enjoy Flexibility and a Suite of Services with an Autonomy Tesla Subscription 
Driving an electric vehicle is a socially and environmentally conscious choice, and you can reward yourself for that commitment with the benefits of an Autonomy subscription.  
Autonomy is an electric vehicle subscription service based in California. It offers members access to a Tesla, including the Model 3 and Model Y, with digital account activation and management available through the Autonomy app. Giving drivers options on everything from colorways and wheel specs to pricing plans and time commitment, Autonomy puts customers in control of their mobility, democratizing access to EVs as we collectively drive toward a cleaner environment.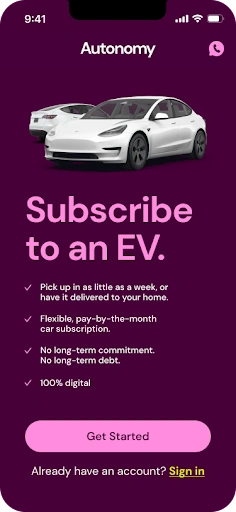 The Autonomy app lets customers activate and manage their subscription accounts completely digitally.
The savings of an EV are boosted further with the services that Autonomy provides at no extra charge. The subscription includes limited roadside assistance, routine maintenance, and tire replacements for normal wear and tear, in addition to taking care of recurring, pricey hassles like title and registration. Simplifying costs into transparent monthly payments streamlines finances for the driver, leaving them with less paperwork as they embark on the open road.  
In an effort to give drivers control over their mobility and finances, Autonomy lets customers choose from 10 customizable pricing tiers. You can pay more upfront to lower your monthly subscription amount, or you can lower your start fee and pay a bit more month to month. Autonomy lets you pick the pricing plan that best fits your situation. 
And with the ability to run a liquidity check as an alternative to a credit check to verify eligibility, the service can even  provide Tesla access to visa holders or new immigrants who may not have the credit to qualify for a car loan or lease but who have come stateside to work high-earning jobs.  
In addition to flexible finances, Autonomy also gives drivers flexibility over their own timelines. With the option to return your car and terminate your subscription with a 28-day notice after just three months, the service won't penalize you or charge you more for changing your mind. You can walk away debt-free and unchained from any clunky possessions. On the flipside, you can keep driving your Autonomy Tesla for years, enjoying the savings that grow over time and contributing to a cleaner environment for an affordable monthly fee.  
As Tesla continues to reign as the nation's most popular EV, the automaker reports months of backlog before eager customers can get their new car for a lease. Autonomy is a shortcut to a premiere electric car, getting you behind the wheel faster, with savings and benefits to boot. Learn more and sign up today at Autonomy.com. 
Baylor Knobloch
Baylor is an experienced storyteller working as a writer and editor for Sharp Pen with a background in journalism and media production. When not crafting tech communications, she writes and edits for online publications In The Know and Humor Darling. Baylor earned her BA at Brown University.