How a Tesla Model 3 Subscription With Autonomy Works From Start to Finish
July 5, 2022
How a Tesla Model 3 Subscription With Autonomy Works From Start to Finish
From music and movies to groceries and razors, subscriptions offer consumers fast and easy access to goods on a month-to-month basis. We're living in the subscription economy, and the pandemic has only accelerated its growth. Perhaps not surprisingly, subscriptions are now taking root in the automobile industry, offering drivers flexible, customizable mobility options without the long-term debt of buying or leasing. 
As opposed to purchasing, acquiring a vehicle subscription means you pay a recurring fee in exchange for access to a car. And while it's similar to a lease, a subscription can often be less expensive while offering much more flexibility. Matching busy consumers with streamlined solutions, many subscriptions are managed completely digitally. Through Autonomy, a California-based car subscription service offering drivers access to the Tesla Model 3, consumers can activate and manage subscriptions through an app. Getting started can take as little as 10 minutes. 
But what exactly does a subscription entail? Let's break down the steps of subscribing to a vehicle so you can understand what you'll be paying for.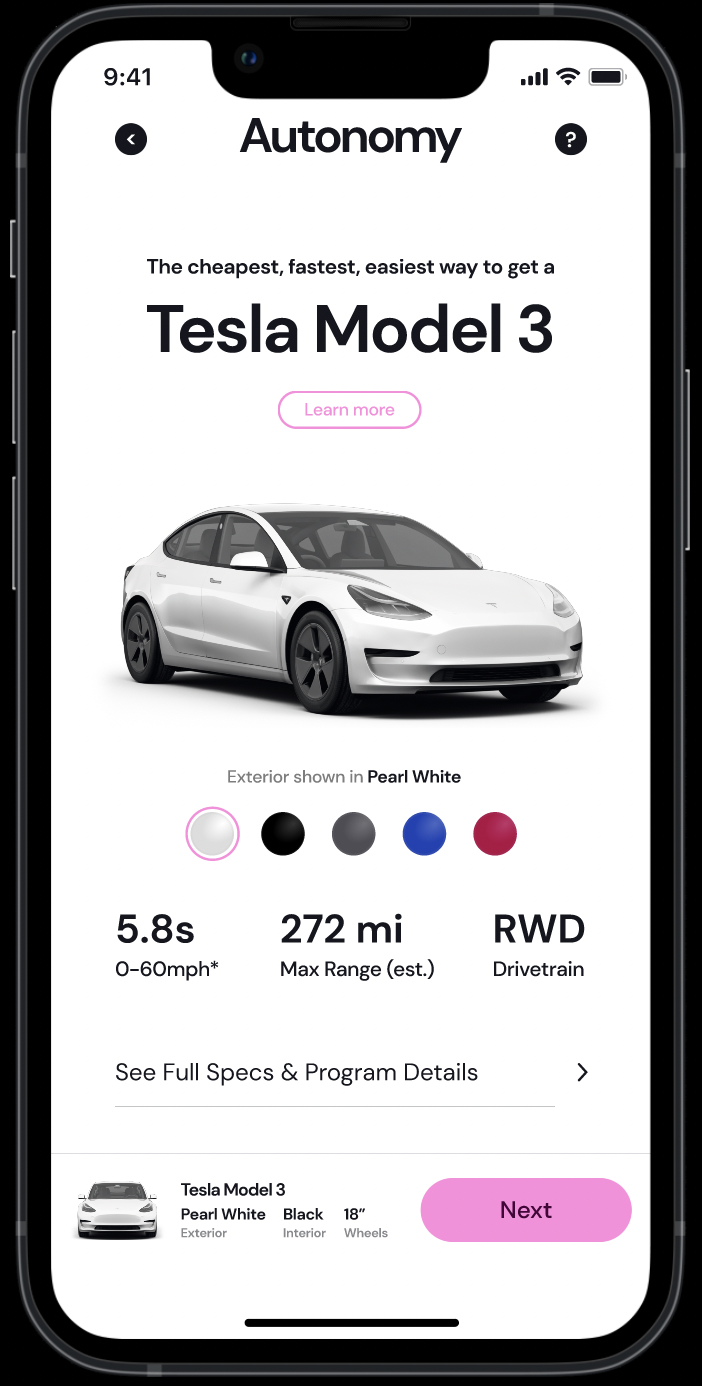 Step 1: Get Your Tesla Model 3
To start, you pay a fully refundable $100 reservation deposit. This saves your spot in line and unlocks the next step, where you'll enter your information on the Autonomy app by scanning your driver's license, setting up your payment method, providing your car insurance details, inputting some basic info, and snapping a quick selfie so Autonomy will know it's really you when you come to pick up your Tesla. 
Once you've entered your information and are approved, select your best start fee and monthly payment combo and pay the rest of your $500 refundable security deposit (minus the $100 reservation deposit) to secure your electric vehicle, and the fun begins. You'll choose the day, time, and garage location of your vehicle pickup — or you can have it delivered anywhere in California for just $100. It can be as soon as just a few days away (subject to availability), a stark contrast to Tesla's usual months-long wait to purchase or lease.
When it's time for you to check in with Autonomy at the designated spot, you'll have the opportunity to inspect your Tesla Model 3 before driving away with it. If everything looks good, you'll be ready to pay your drive-off fee and, well, drive off. 
The drive-off fee consists of your customizable start fee and the first month's subscription fee plus taxes. Part of activating a subscription with Autonomy is choosing your pricing tier. Autonomy has a variety of customizable pricing options, ranging from higher start fees with lower subsequent monthly payments to lower start fees with higher monthly payments. There are 10 price tiers total, and regardless of which tier you choose, driving away with your Tesla is as easy as paying the start fee, first month's subscription fee, deposit, and taxes all right from the app.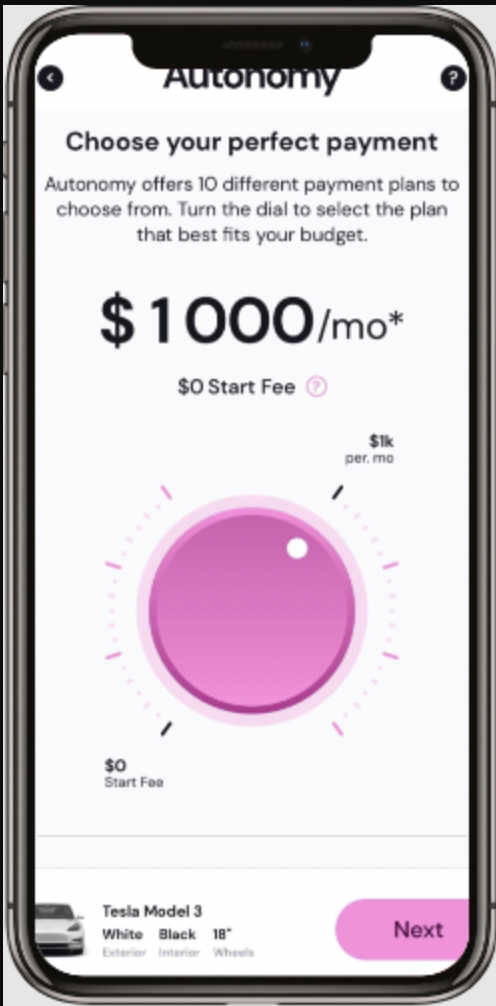 Step 2: Charge Your Tesla Model 3
Congratulations! You're now a proud driver of a Tesla Model 3, and as an added perk, you've accrued zero long-term debt by getting behind the wheel. So now it's just you, the car, and infinite possibilities.  
If you're new to electric vehicles, you might be wondering how charging works. Between Superchargers, destination chargers, and at-home charging, you'll never be at a loss for where to plug in and juice up your Tesla. For day-to-day fuel, Autonomy provides the corded mobile connector and any required adapters to enable at-home charging. Your car will recharge overnight as you do, and in the morning, you'll both be able to hit the road. 
For longer treks, drivers can use Tesla's trip planner to locate Superchargers along their routes. Tesla has a global network of more than 30,000 Superchargers, which boost your car with 200 miles of range every 15 minutes.
Step 3: What You Need to Know About Tesla Model 3 Maintenance
In addition to doing away with unstable and costly gas prices, a Tesla Model 3 also reduces much of the maintenance of a gasoline car. Thanks to their advanced technology and construction, Teslas don't require annual servicing or regular fluid checks. 
But still, Teslas do need a few things to keep running smoothly, like tire rotation, worn tire and cabin air filter replacements, and compartment checkups, all of which are recommended every two years. With few limitations, an Autonomy car subscription covers the cost of this routine maintenance, connects you with authorized service providers, and lets you schedule appointments through the app to expedite the process. 
So your Tesla is fully charged and all tuned up for optimal performance — with no surprise out-of-pocket expenses on your end. Even still, accidents happen. Autonomy includes 24/7 roadside assistance, which you can request with the touch of a button in the Autonomy app. If you get into an accident or experience any other issues with your car, Autonomy connects you with a Tesla repair center to get you back on the road faster.
Step 4: Customize Your Timeline
A Tesla Model 3 subscription with Autonomy is easy to activate, covers most routine maintenance and roadside assistance, and offers drivers maximum flexibility. With a subscription, you can drive the car for as long as you want. There's no renewal or extension process, so you can keep living your life without extra paperwork. 
If you don't need the car anymore, Autonomy offers the option to cancel your subscription after your first three months with 28 days' notice, which can all be done via the app. All you have to do is return the car, and you'll walk away free of any debt or commitment. 
 If you want to avoid the headache of car registration, maintenance, and repairs, a vehicle subscription with a streamlined app could be the answer. And if you're tired of gas prices bleeding your wallet dry and fossil fuels polluting our planet, an Autonomy car subscription offers the way forward. Get the app now, and you could be behind the wheel of a Tesla Model 3 in as little as one week for California residents, while supplies last. 
Baylor Knobloch
Baylor is an experienced storyteller working as a writer and editor for Sharp Pen with a background in journalism and media production. When not crafting tech communications, she writes and edits for online publications In The Know and Humor Darling. Baylor earned her BA at Brown University.