Electric Vehicle Marketing Report: Used-Vehicle Market Analysis and Forecast
December 13, 2022
Electric Vehicle Marketing Report: Used-Vehicle Market Analysis and Forecast
A perfect storm of record new- and used-vehicle average transaction prices (ATPs), record low inventory levels, very low number of future lease return units, climbing interest rates, and a sales gap of 6.5 million units compared to the pre-pandemic levels in 2019 will put unprecedented pressure on used-vehicle market prices for the foreseeable future. Vehicle affordability will drop beyond any current forecasts, necessitating alternative methods of access to vehicles to keep the country moving.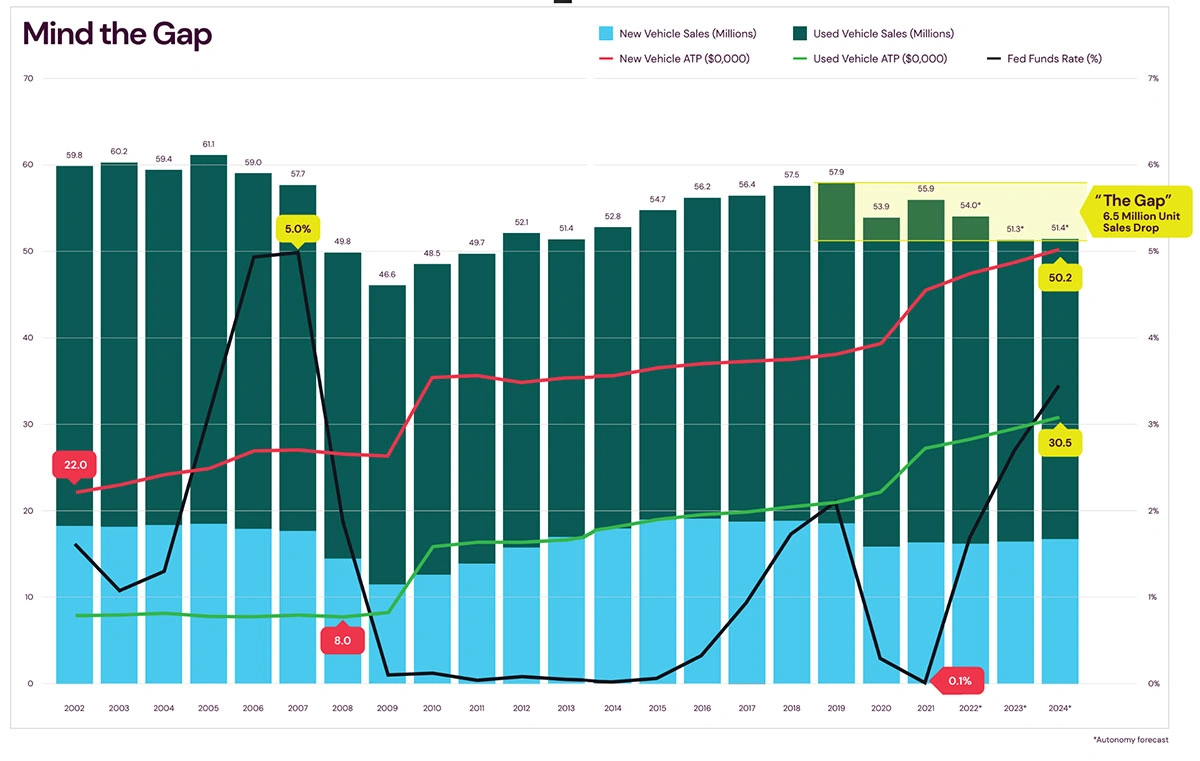 There are three main sources for supply of used cars:
1. Lease returns
2. Rental car and fleet sales
3. Consumer trade-ins, private sales
All three of these sources have experienced significant declines since Q1 2020 but lease returns, in particular, are about to experience an astonishing drop that most market predictors seem to have forgotten about: the most common lease term is 36 months. When we get to March 2023, vehicles that were leased back in March 2020 will be coming back to the remarketing channels. Extremely minimal numbers of cars were leased starting in March 2020 and many months following, which means one of the largest sources of supply of newer used cars will nearly completely dry up in the coming months, and only experience a modest recovery for the next three years after that, if not longer.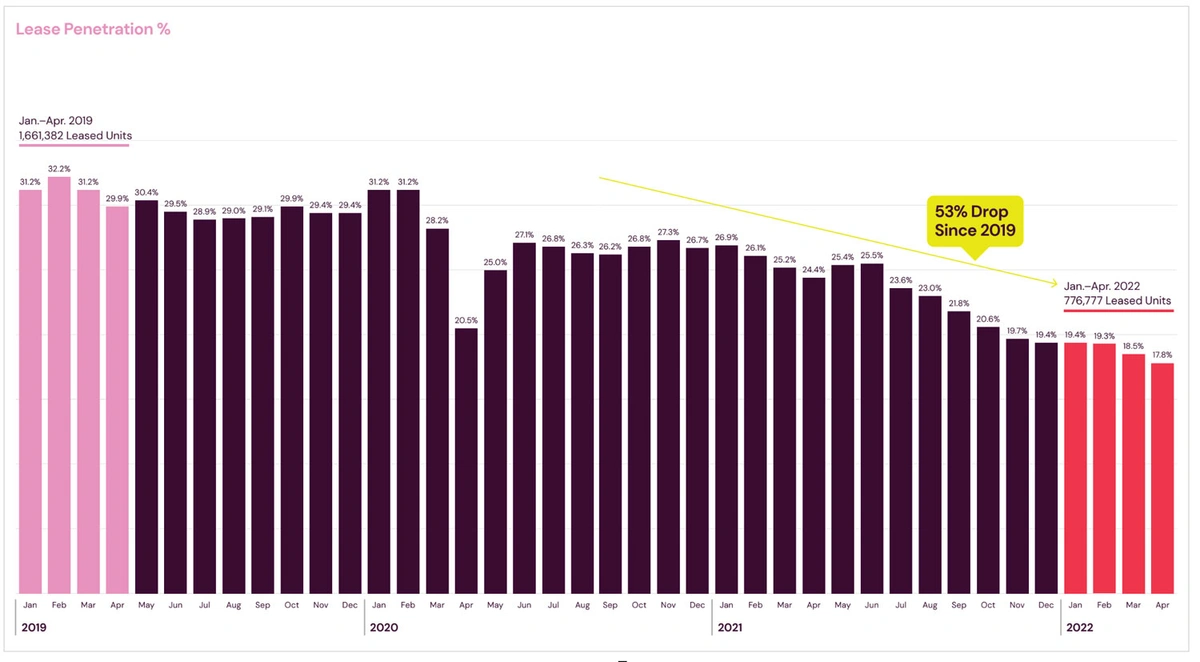 More than 5 million leased vehicles were returned in 2021.
When we take these millions of vehicles out of the already-tight supply, we can easily deduce that the record-high prices for used cars are not only here to stay, but also, used cars are about to get even more expensive for a sustained period — very likely, several years.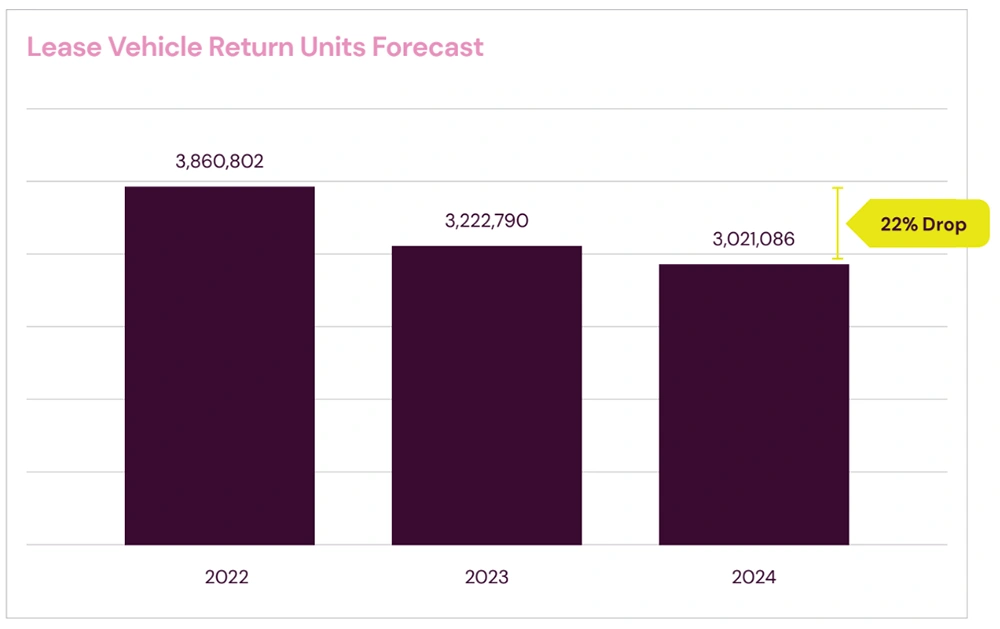 Image by senivpetro on Freepik
•This article was excerpted from Autonomy's Electric Vehicle Market Report, Issue 1.  To download the full report for free, click here. 
Jesse Toprak and Brandy Schaffels
Longtime auto industry analyst Jesse Toprak is now the chief analyst at Autonomy, the electric vehicle subscription platform from Scott Painter and Georg Bauer. His auto analyst roles included being the chief analyst at Cars.com, the vice president of market intelligence at TrueCar and the executive director of industry analysis at Edmunds. Toprak was most recently the chief executive officer of CarHub and the vice president of corporate strategy for Hertz. Brandy Schaffels brings the benefit of 30 years of experience reporting on the automotive industry. Brandy's career includes working as both freelance journalist and staff member of such household name brands as Car Craft, Motor Trend, AskPatty.com, and TrueCar.com. Brandy first burned rubber in a red 1976 Chevy Monza and will never forget her first true muscle car: a Root Beer Brown 1968 Mustang Coupe with a 289 cid small-block V-8. Today, you'll find Brandy behind the wheel of either her sunshine-yellow Fiesta or her sky-blue BMW Z4 convertible, depending on the weather.