Analyzing the U.S. Electric Vehicle Market
November 15, 2022
Analyzing the U.S. Electric Vehicle Market
• Overview and Forecast
U.S. electric vehicle sales climbed 79% from 2020 to 2021, and we are forecasting a further 62% year-over- year increase in 2022, accelerating to another 83% year-over-year in 2023. EV sales will exceed 5 million units in 2030, more than 10 times more than the units sold in 2021.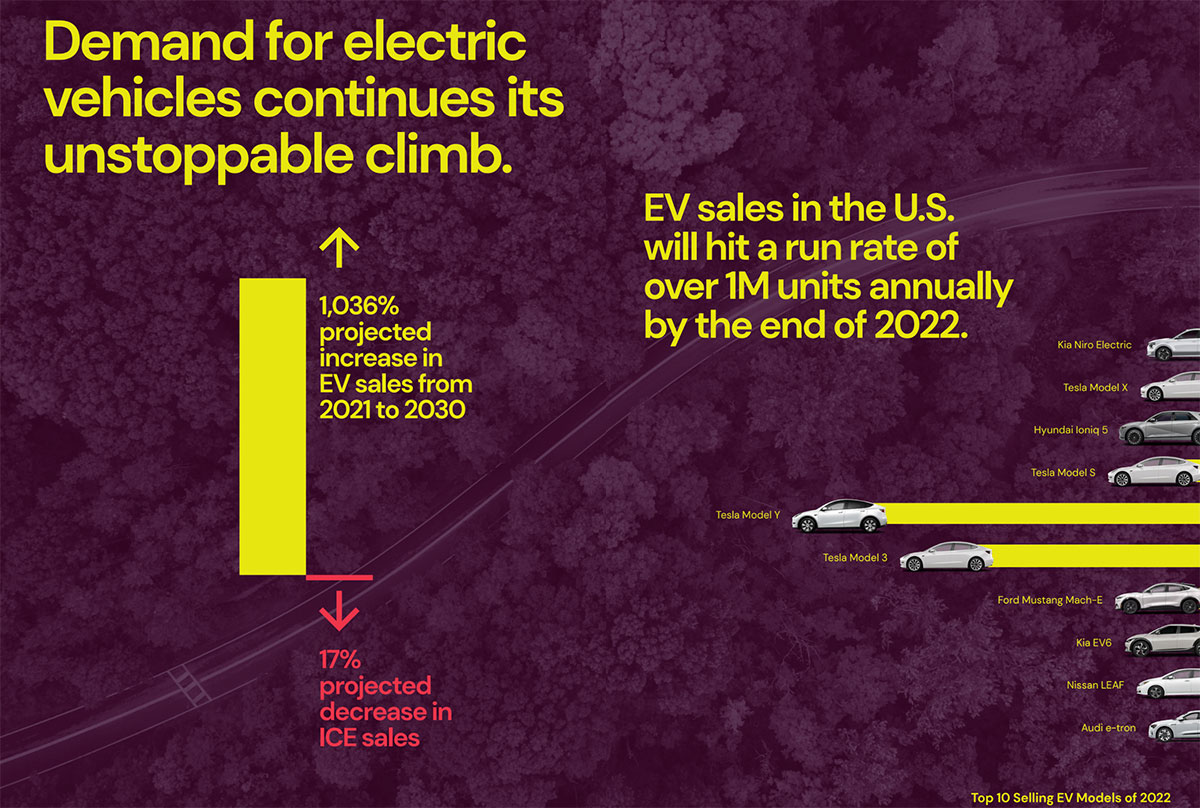 EV share of the industry in the United States rose to 5.7% in the second quarter of 2022, compared with 2.8% in the first quarter of 2021, more than doubling the share. One major contributing factor is the large increase in EV models available, with 14 new models introduced since the start of last year, eight of which were launched just in 2022. Two models in particular gained significant share: the Hyundai Ioniq 5 and the Kia EV6, which are built on the same Electric-Global Modular Platform (E-GMP) architecture and share the same batteries and electric motors, as well.
However, new models weren't the largest contributor to the gain in EV volume. Increased Tesla sales contributed over 70% of the EV volume gain, with new models from all other manufacturers contributing the other 30%. While the Model 3 was the largest contributor, all Tesla models showed gains — notably the Model X and Model S, which showed exponential gains over their low baselines from Q2 2021. Tesla held roughly the same share of EVs, at 73% of the overall volume, as it has most quarters since the start of 2021. Outside of Tesla and newly introduced models, overall EV volume was slightly down.
From 2021 to 2022, some major shifts were seen among the "non-Tesla" EVs. In Q2 of 2021, GM models (primarily the Bolt EV) represented 23% of all non- Tesla EVs sold, but due to the stop-sale related to battery issues, this declined to under 1% in Q1 2022, and has since recovered to 10% in Q2. On the other end, Hyundai and Kia, whose vehicles share platforms, rose from 14% of non-Tesla EVs to 30%. In addition to the aforementioned Hyundai Ioniq 5 and Kia EV6, those nameplates also sell the Hyundai Kona Electric, the Kia Niro EV, and until last year, the Hyundai Ioniq (this was Hyundai's quasi Prius competitor sold as a hybrid, plug-in hybrid, or EV, which shares nothing other than its name with the Ioniq 5). Other major EV manufacturers include Ford, which sells the Mustang Mach-E and F-150 Lightning, and Volkswagen Group, which offers the VW ID.4, Audi e-tron SUV and e-tron GT sedan, and Porsche Taycan.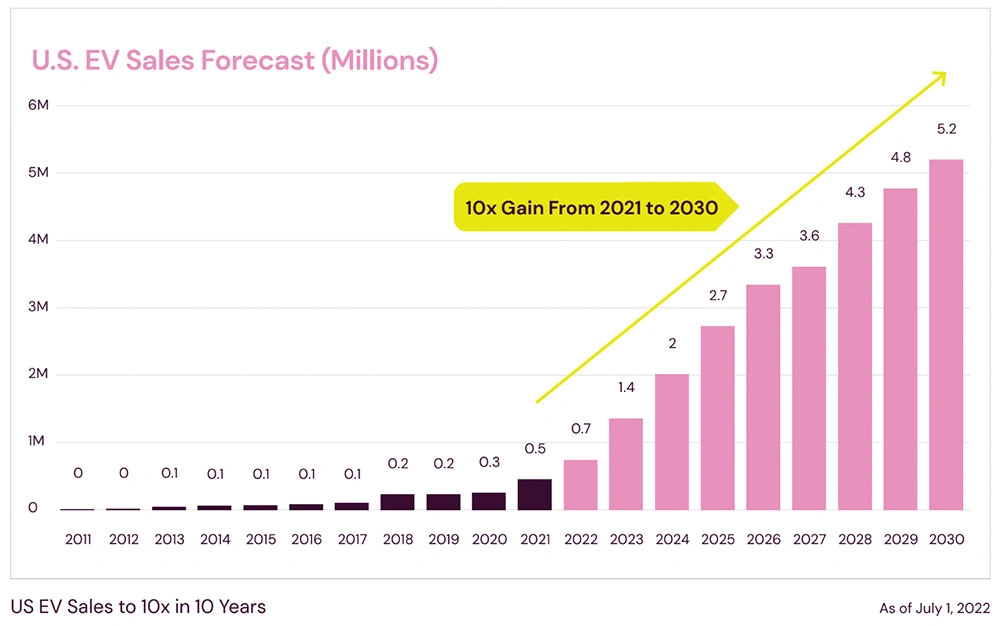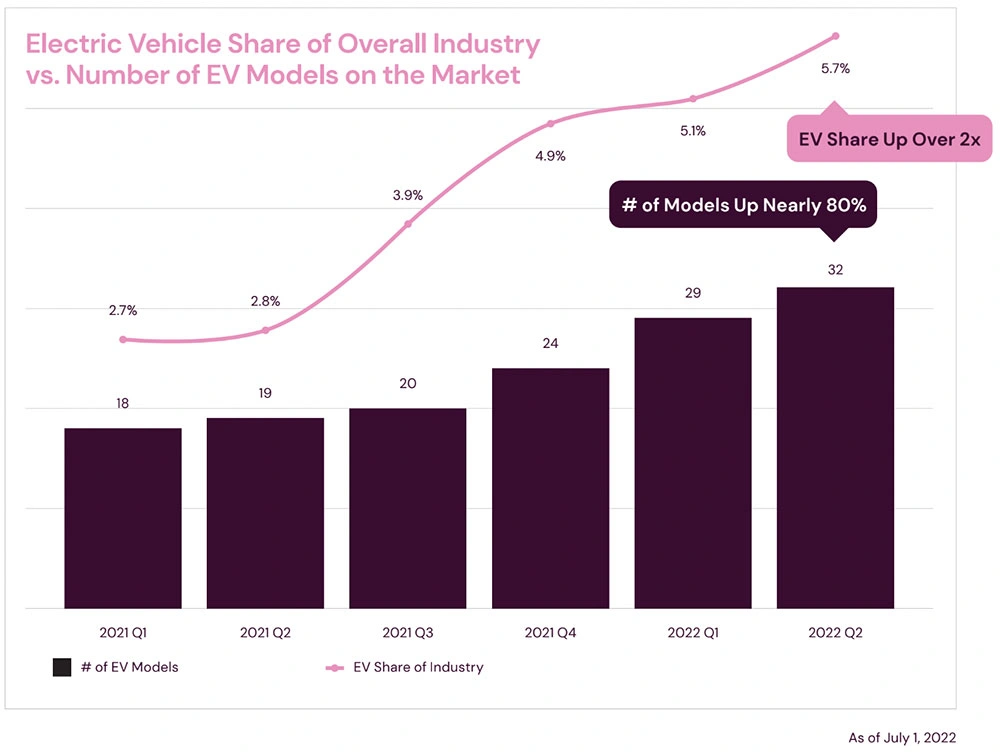 •This article was excerpted from Autonomy's Electric Vehicle Market Report, Issue 1.  To download the full report for free, click here. 
Jesse Toprak and Brandy Schaffels
Longtime auto industry analyst Jesse Toprak is now the chief analyst at Autonomy, the electric vehicle subscription platform from Scott Painter and Georg Bauer. His auto analyst roles included being the chief analyst at Cars.com, the vice president of market intelligence at TrueCar and the executive director of industry analysis at Edmunds. Toprak was most recently the chief executive officer of CarHub and the vice president of corporate strategy for Hertz. Brandy Schaffels brings the benefit of 30 years of experience reporting on the automotive industry. Brandy's career includes working as both freelance journalist and staff member of such household name brands as Car Craft, Motor Trend, AskPatty.com, and TrueCar.com. Brandy first burned rubber in a red 1976 Chevy Monza and will never forget her first true muscle car: a Root Beer Brown 1968 Mustang Coupe with a 289 cid small-block V-8. Today, you'll find Brandy behind the wheel of either her sunshine-yellow Fiesta or her sky-blue BMW Z4 convertible, depending on the weather.