Analyzing the Global Electric Vehicle Market
October 12, 2022
Analyzing the Global Electric Vehicle Market
EV Market Trends in Three Major Regions
Europe has registered the highest number of new EV sales in the past year, outstripping the U.S. and China as the two so-far-leading EV markets. Sales were fueled by new government regulations in respect to initiatives and laws passed to tackle climate change. Favorable government policies coupled with changing customer attitudes, both in respect to going green and about EVs as a whole (e.g., increase in electric range) proved to be catalysts of growth. This was matched by enthusiasm of OEMs to introduce new models and renew the push of existing models. Nordic countries and Germany led the way, as both are marked by relatively developed charging infrastructure compared with the rest of Europe, favorable tax incentives, mandatory restrictions on the ICE equivalents, and the substantial purchasing power of consumers. In fact, growth has been limited by availability and protracted delivery times driven by global supply chain constraints following the COVID-19 pandemic. The outlook remains strong and the expectation is that Europe will account for 35% of the global EV market by 2030.
China, however, remains the dominant market for EVs. Despite the impact of COVID-19 and the rolling back of some government incentives, appetite for EVs experienced strong recovery, reaching pre- pandemic levels both on the demand side and the supply side. The recovery has been driven mainly by pent-up demand, continuation of policies by Chinese authorities, changes in direct retail (e.g., ability of consumers to purchase cars online), and continuing investment in the charging network. The market is projected to remain a strong leader, with 41% of the global EV market by 2030.
Compared with Europe and China, the United States remains a market in recovery. With COVID-19 and supply shortages having a major economic impact, overall sales of EVs fell sharply in 2020. However, the horizon looks promising, particularly because the federal Infrastructure Investment and Jobs Act is set to provide $5 billion to states to build a national charging network. Rising fuel prices and general economic recovery are once again driving an increase in sales of EVs. By 2030, the United States will hold 15% of the global EV market.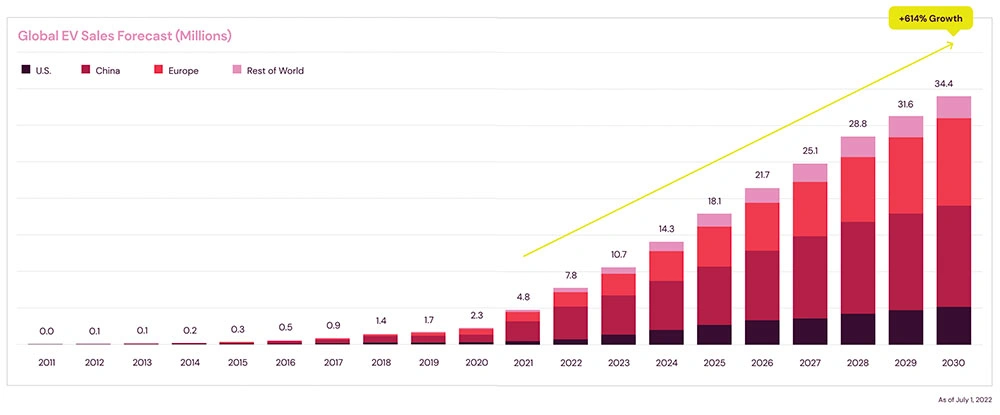 Factors Influencing Growth
The outlook for EV market growth in the years to come shows an undeniably optimistic picture. Substantial growth is coming in spite of headwinds from the global economy, namely rising inflation, post COVID-19 supply-chain constraints, and political instability. This positivity is fueled by a combination of numerous factors that can broadly be observed as changes coming from all four market participants: consumers, OEMs, governments, and corporations.
Recent research has confirmed statistically observed market trends, and customers are overcoming their concerns related to EVs — in particular, driving range, price premium, availability of charging infrastructure, recharging speed of EVs, and general safety concerns related to new technology. In fact, EVs are reaching parity with ICEs regarding the maximum achievable range, with significant reduction of negative sentiment in countries such as France, Germany, China, and the United States. Governments and OEMs are investing in the recharging infrastructure; in particular, Germany is setting aside $2.8 billion out of $146 billion of COVID-19 recovery funds exactly for this purpose.
In the United States, the federal Infrastructure Investment and Jobs Act will provide $5 billion to states that build a national charging network, while China is following with an additional $378 million. Investments are paying off, and customer concerns related to network availability are substantially declining. Publicly accessible slow and fast chargers increased to 1 million in 2021.
It is worth noting that in countries that have not yet taken such investment drives (e.g., Italy), negative customer sentiments remain higher in comparison. Finally, pricing premiums are expected to go down and reach point parity with ICEs in 2023. OEMs, on the other hand, have now fully committed to EVs as the future that will dominate the automotive market. To achieve their sales targets, car manufacturers have set to deliver, according to the European Federation for Transport and Environment, 30 new models in 2022, and an additional 33 in 2023, ensuring that the total number of available Battery EV (BEV) models on the European market alone will surpass 100 in 2022, and 172 by 2025. In the United States, 130 models will be available by 2026, offered by over 40 different brands.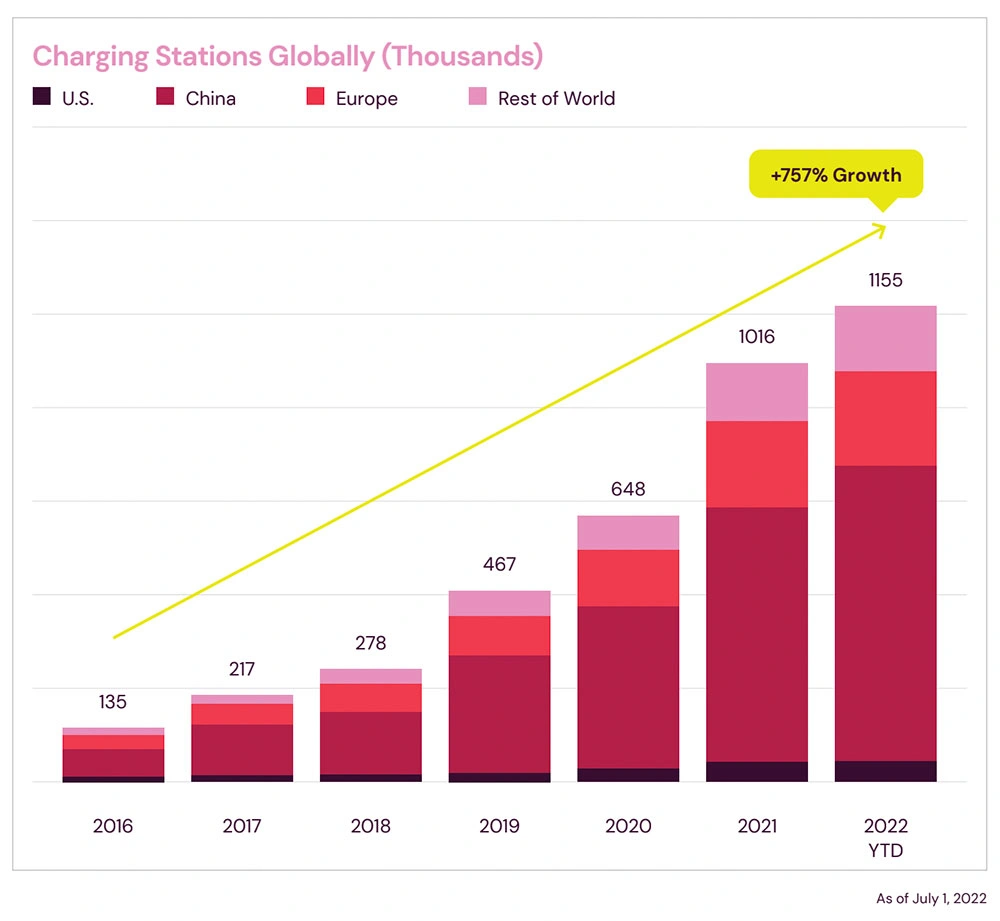 As EV adoption continues to increase, it is important to review the myriad stakeholders influencing the rate of that adoption. Governments across the globe with regulations and incentive programs are clearly a major force, but the real driving factors come from what economists might say are the only ones that matter: supply and demand. In this context, supply is the automakers actually putting electric vehicles into the market, and demand is the consumers who are choosing to put those electric vehicles in their driveways.
As mentioned previously, governments have also set a path forward for broad adoption of EVs. Driving legislation and policy in line with the 2015 Paris Agreement, governments have been introducing a wide spectrum of cash subsidies and tax breaks on EVs, as well as, on the opposite side, increasing taxes for ICEs. Germany subsidizes new BEV purchases 18 of the 20 Largest OEMs Have Committed to Increasing the Offer and Sales of EVs with $7,000 up to a purchase price of $45,000, and France has expanded its subsidies, offering $8,000 up to a purchase price of $50,000. China has announced it will continue its subsidies programs in response to COVID-19 until 2022. Cities have started to introduce no-CO2-emissions areas and are outright banning diesel motors. Again in Europe, the European Commission has put in place EU CO2 emissions targets for OEMs that are now in full force and are projected to cost OEMs up to $39 billion per current emission level. One can imagine how such actions could have a positive impact on the sales of EVs, or, as recent market data shows, a negative influence once they are removed, as demonstrated in China and the Netherlands. We expect continued and strong government intervention in the EV market, resulting in positive outcomes for new EV sales and overall adoption.
Last but not least, large corporations play as significant of a role as retail customers in the EV market, making up around 60%, if not more, of total car sales in Western Europe for 2021. As expected, COVID-19 temporarily had a negative impact on the numbers and their willingness to invest, but demand remains robust, driven by commitment of big corporations to go green. Tax incentives and new CO2 emissions standards with related fines are just a part of the story. ESG reporting, as well as investors, and their own employees and customers, are demanding a more forceful role of corporations in battling global warming. Ultimately, investing and transitioning their mobility fleet to EVs will result in favorable financial outcomes for corporations, keeping in mind volatility in fuel prices, negative subsidies, and overall cost that will continue to rise for existing ICE fleets.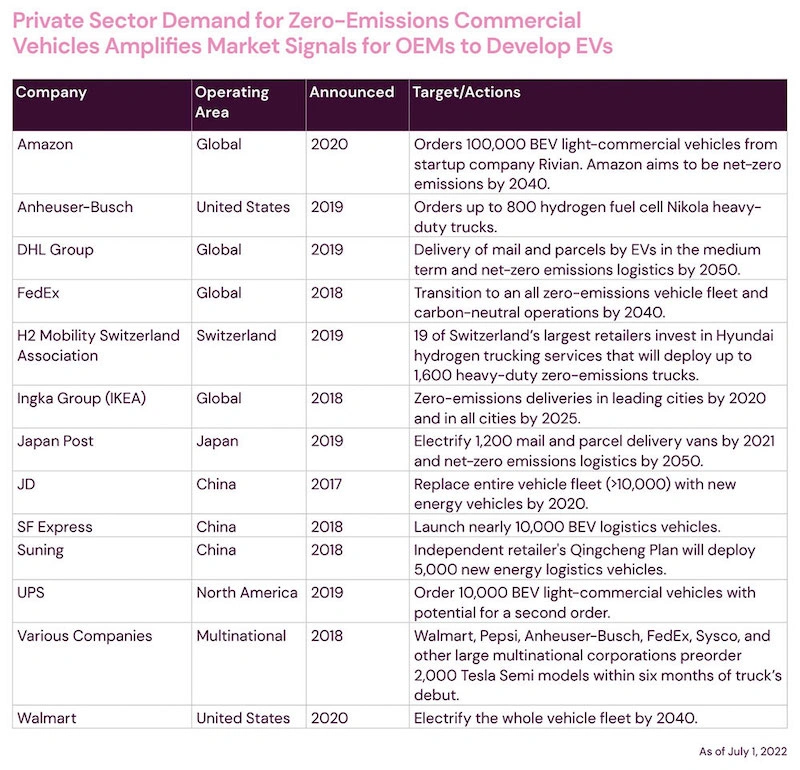 •This article was excerpted from Autonomy's Electric Vehicle Market Report, Issue 1.  To download the full report for free, click here. 
Jesse Toprak and Brandy Schaffels
Longtime auto industry analyst Jesse Toprak is now the chief analyst at Autonomy, the electric vehicle subscription platform from Scott Painter and Georg Bauer. His auto analyst roles included being the chief analyst at Cars.com, the vice president of market intelligence at TrueCar and the executive director of industry analysis at Edmunds. Toprak was most recently the chief executive officer of CarHub and the vice president of corporate strategy for Hertz. Brandy Schaffels brings the benefit of 30 years of experience reporting on the automotive industry. Brandy's career includes working as both freelance journalist and staff member of such household name brands as Car Craft, Motor Trend, AskPatty.com, and TrueCar.com. Brandy first burned rubber in a red 1976 Chevy Monza and will never forget her first true muscle car: a Root Beer Brown 1968 Mustang Coupe with a 289 cid small-block V-8. Today, you'll find Brandy behind the wheel of either her sunshine-yellow Fiesta or her sky-blue BMW Z4 convertible, depending on the weather.