Analyzing Charging Stations in the U.S. Electric Vehicle Market
November 22, 2022
Analyzing Charging Stations in the U.S. Electric Vehicle Market
One of the key factors influencing the adoption of electric vehicles is the availability of public charging. At each charging station, there are one or more "charging ports," and typically the limitation on the number of vehicles that can charge simultaneously at a given station is equal to the number of charging ports. Think of ports like gas station nozzles, and that will give you an idea of a station's charging capacity. In the U.S., there are 54,000 stations, with a total of 134,000 charging ports — an average of 2.5 charging ports per station. 
The top 10 states by EV registration volume make up 73.8% of the nation's EVs, but only just over half of the nation's public charging stations or charger ports. The higher the ratio of registered EVs to public charging stations and ports, the higher the risk that EV drivers cannot find a charging station or an available port in a convenient manner. 
Notably, with the exception of New York, Colorado, and Georgia, each of the top 10 states have more EVs per charging port than the national average. With a lower share of the nation's chargers than EVs, these states with higher EV adoption risk negative headwinds if there is not enough available charging infrastructure to service the EVs on the road. 
Looking at the dynamics on the issue of charging infrastructure, two important trends are worth noting. One happens at home; the other is government accelerated.
Per the latest figures, overnight charging is home- based in 80% of the cases. In the past few years, modern homes have been increasingly including charging stations in their garages (particularly those in California), and demand is only increasing, with existing homeowners looking for ways to install fast chargers in their garages.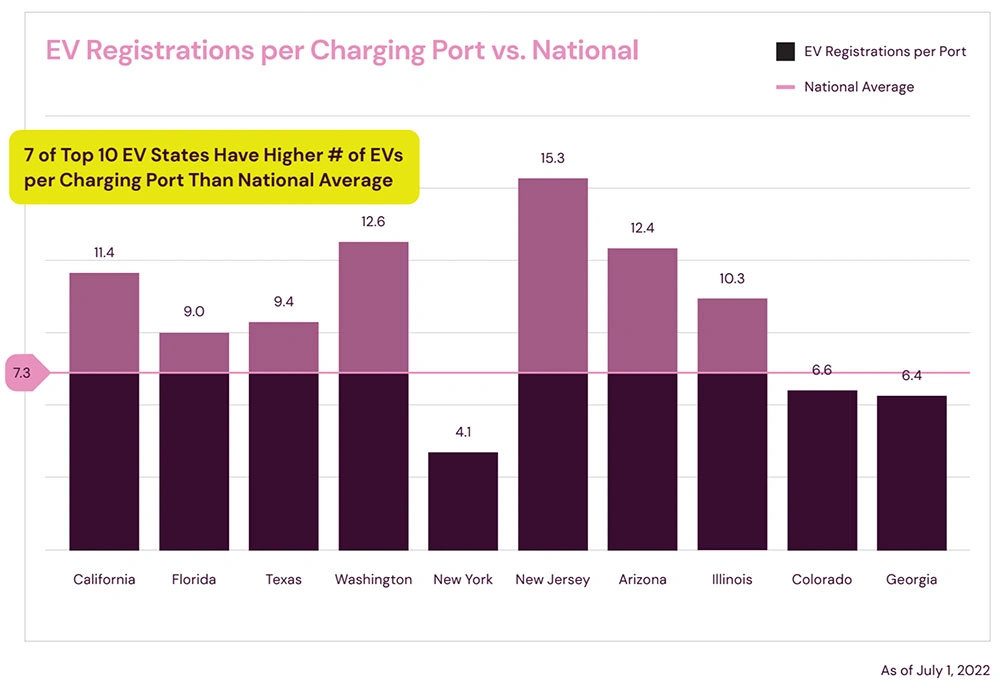 Government and federal funding in the U.S. is accelerating for build-out of fast-charging networks. In the U.S., the federal Infrastructure Investment and Jobs Act will provide $5 billion to build a national charging network. So far, public EV-charging networks have, in fact, proven to be a major hurdle in the mass adoption of EVs and still represent one of the leading customer hesitation points in all markets. In particular, consumers note fragmentation of the network setups, and different and often unreliable payment systems, both in terms of hardware and software, which all represent a significant headache for the end user. Tesla and its owners have enjoyed a substantial advantage, with its proprietary Supercharger network that can detect the vehicle when the charging cord is connected and automatically deduct charging fees from the owner's account. The new Plug and Charge protocol is a first step to an open and standardized way for the owners to charge their new EVs. However, we can expect challenges to remain in this domain until the industry adopts standards and follows up with their implementation.
•This article was excerpted from Autonomy's Electric Vehicle Market Report, Issue 1.  To download the full report for free, click here. 
Jesse Toprak and Brandy Schaffels
Longtime auto industry analyst Jesse Toprak is now the chief analyst at Autonomy, the electric vehicle subscription platform from Scott Painter and Georg Bauer. His auto analyst roles included being the chief analyst at Cars.com, the vice president of market intelligence at TrueCar and the executive director of industry analysis at Edmunds. Toprak was most recently the chief executive officer of CarHub and the vice president of corporate strategy for Hertz. Brandy Schaffels brings the benefit of 30 years of experience reporting on the automotive industry. Brandy's career includes working as both freelance journalist and staff member of such household name brands as Car Craft, Motor Trend, AskPatty.com, and TrueCar.com. Brandy first burned rubber in a red 1976 Chevy Monza and will never forget her first true muscle car: a Root Beer Brown 1968 Mustang Coupe with a 289 cid small-block V-8. Today, you'll find Brandy behind the wheel of either her sunshine-yellow Fiesta or her sky-blue BMW Z4 convertible, depending on the weather.